Last week we left Sir Baniyas Island. We had a choice of heading to E-11 and the 2 hour drive back back to Khalifa City, or taking the "scenic route" through Liwa desert. Two hours, versus six hours, but it was completely worth the detour!
Poor camel! All his friends were inside the fence but somehow he had gone astray! He's following the pack until he finds a fence opening! (Good luck, Camel... we drove about an hour before we found one!). The guy in the back is checking us out :)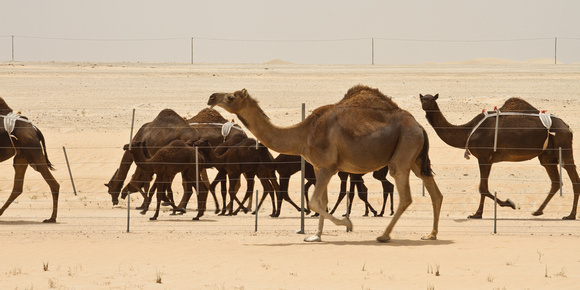 As we drove though the familiar white sands of Abu Dhabi, we suddenly approached a gorgeous section of green! Long before the town began, the grass and trees popped up. Gayathi, an oasis town in the middle of nearly no where, has a police station, proper neighborhoods, and at least two schools. We zig-zagged through town and saw a good deal of it. As suddenly as it came upon us, we were on the other side! A distinct edge of town, and we were back in the desert once again. On the other side of Gayathi, however, the sand was beginning to change.
The winds were very strong and the sands had obviously blown a great deal. The red sands of Liwa were mixing with the white sand. It made the coolest pattern! I couldn't even really capture the true beauty of it on film, but it will always be in my memory.
I love how the sand looks blowing across the road!
We drove up to the Saudi Arabian/ UAE border and back down though Madinat Zayed. Madinat Zayed reminds me of a military town in the southern US, minus the massive sand dunes on the outskirts of town!
This fence runs along the UAE/ Saudi Border... The red sand pattern is most evident here but in real life, the whole area looks like this. I remember on a dune bashing excursion one time, the driver said the best part of his job is that the dunes never look the same from day to day. The desert is like God's huge etch-a-sketch!
Sand patterns...
Just inside the Saudi border... the sand blowing off the top of the dune.
This is about a kilometer inside the UAE. We stopped and I was able to sit down in the middle of the road to shoot. If someone had told me 5 years ago that I would be plopped down on some asphalt taking photos within a click from Saudi Arabia, I would have thought they were completely bonkers! Five years ago, I was working in an elementary school, going to college full time, trying to get my education degree. When I thought of my future, I thought of classrooms and sticky tack and wall decorations! I truly hope someday to get back to all of that. But for now, I am embracing what life has brought my way. I'm living my dream of actually making money to take photos! I am getting to travel to places I didn't know existed before. Some people thought we were off our rockers to give up everything we knew back home and move abroad. I prefer to believe that, "Life is either a daring adventure, or nothing!" ~Helen Keller
I love this photo... and I love that the road ahead of me is wide open!
To read my previous postings, please click http://goo.gl/2BZ0O or to browse my photography, please click http://goo.gl/jLu5P. Thanks for visiting!!
~E xx