First things first: Thank you, thank you, thank you to Gulf Photo Plus for an amazing week! UAE photo enthusiasts, check out: http://www.gulfphotoplus.com for other upcoming events! Also, check out David Burnett's Bob Marley "Soul Rebel" Exhibit at GPP through April 15th.
Last Monday, I attended the One Light Workshop with Zack Arias ( http://zackarias.com/) at Gulf Photo Plus. To say I *needed* this class would be a massive understatement. I am a natural light photographer. I say this not because I am a genius at natural light, far from it, but because until Monday I have literally never, ever utilized a flash while in manual and had a photo come out the way I like it! Never. So flash has been a bit of a scary and undiscovered world for me.
We used an umbrella, a softbox and a grid. I stink at the grid. Or at least I did on Monday. Here's a shot of one of my classmates taking his turn with the grid set up:
His photos were really good, by the way! And it was really nice of Khaled from GPP to stand in as an impromptu model for us! Here's how one of mine came out:
Ok so... here's the metadata:
Camera make Canon
Canon EOS 7D
50 mm
f/1.8
1/160 at f/6.3
Fired, compulsory mode
0 EV
Manual
Manual
ISO 100
Pattern
First, Khaled has some pretty bad shadows on him. I think my height vs his height did not weigh in my favor, as I was definitely not perpendicular with him, even tho he tried squat to make himself shorter for me! If he was a client, I would have had to stand on something to achieve a more flattering angle, or had him sit. There is no flash of light in his eye and in general his eyes just don't really stand out. It's likely that I accidentally refocused elsewhere after I composed (this is cropped by the way, for purposes of full disclosure... my composition was shocking!). As a portrait photographer, my ultimate goal is for everyone to be looking as healthy and hopeful as possible and there is definitely nothing healthy looking about flat eyes! Another thing I did wrong: I didn't take a deep breath and take my time. I was in a workshop, and I was nervous as hell. My hands were literally shaking, so really, I should be on my knees praising the inventor of image stabilization :):) I did not take my time, I wanted to get to my turn and get it over with as there were other people waiting. Plus, just being on the spot in front of strangers is something many of us struggle with. However, if I want to be a successful photographer, nerves are not an acceptable excuse! In truth, one of the major lessons I learned from this week at GPP had nothing to do with a camera or lens! I realized that I need to be more assertive and less worried about what everyone else is thinking. I need to r-e-l-a-x!!!
Here is an example of a portrait with much better eyes....

Zack set up this beautiful model on a wall outside the center and we each took a turn. I haven't edited this one yet and here's the metadata:
Canon
Canon EOS 7D
50 mm
1/160 at f/3.5
Fired, compulsory mode
0 EV
Manual
Manual
ISO 100
Pattern
She's definitely a better example of "healthy!" The exposure is fairly good as well. I had issues with my synch speed on the 7D for some reason... 1/200th was leaving me with a dark top half of frame on most of my shots, so I slowed down to 160 and it worked a lot better. Zack instructed us to play with the flash power a bit from his original set up. I don't think it's possible to make this girl look bad, but even so, technically speaking, I did a better job on this shot than the photo above.
I was amazed at all the different effects one off camera flash can produce! I can't wait to open the studio, if for no other reason than to play with the lights! My favorite tool of the three we tried out was the soft box. I think I am drawn more to that soft look than to the drama of the grid, but of course they all have their time and place. I am going to start out with a basic starter studio kit when I open the studio... 2 stands with continuous lighting and a strobe.
Zack and all the photographers at the conference were so generous in sharing their knowledge and experiences. Steve Simon was inspiring and incredibly kind, and David Burnett shared many of his stories from the days of film and is literally a living legend. They all got better photos out of me this week than I could have ever produced without their influence. If you are new to photography or thinking of crossing over from hobbyist to professional, I highly suggest finding a workshop in your area. Many professionals teach workshops throughout the year and across the world so there is bound to be one near you soon!
Here are some other photos from the One Light Workshop with Zack and The Walkabout with David Burnett: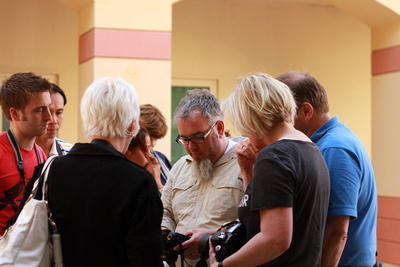 I will write a post about the Passionate Photographer, with Steve Simon in the next few days... the experience of that workshop will stick with me for a very long time. In the meantime, Steve has a book that correlates with the workshop: http://bit.ly/HxbaGn
Until then, have fun shooting!
To read my previous postings, please click http://goo.gl/2BZ0O or to browse my photography, please click http://goo.gl/jLu5P. Thanks for visiting!!
~E x