UAE... a place of severe polarization. On one hand, there are buildings constructed daily, each trying to out glitz, bling, shine the other. Jumeriah Etihad Towers... case in point. The wealth and decadence can be over whelming! It's a very, very easy life for locals and Western Expats alike, compared to other places in the world. On the other hand, there is extreme poverty. Grown men bunked on top of each other in cramped, hot labor camp trailers, with slim to no chance of ever moving up the chain. Women are brought in from all over, many from the Philippines and Sri Lanka, to work as housemaids. Some are promised much more but arrive to find they are cleaning a six bedroom, three story house for an extended family unit, while also caring for multiple children. Employers commonly confiscate employee passports. The work week is seven days for some housemaids, and laborers typically work six. Six days a week of grueling grunt work for construction workers, and part of the year, those days are upwards of 100F degrees. Add to this that many "blue collar" workers are here supporting, and separated from, their spouses and children still living in their home country. From the outside looking in, the lives of these men and women seem like a slice of hell to a Westerner.
I've been here for three years and yesterday, I decided to create a UAE photo gallery. Last week, I went to the fish/veggie/meat souk in Dubai, twice. Once with Steve Simon's workshop and once with David Burnett's. I have definitely never spent so much time in a fish market (and I have the smelly shoes to prove it).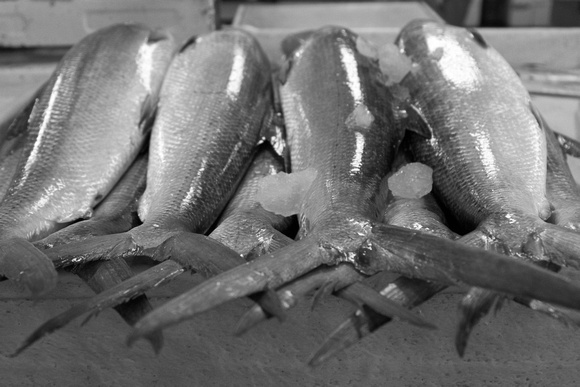 After I settled into the mess and chaos of the souk, and started talking to the men who run the stalls, I realized these are generally happy people. At first glance, I had no idea how they can be happy! They were knee deep in the stench of raw fish, working all day long, being ignored as they tried to coax people to check out their inventory. I can.not.imagine ever even cracking a smile if this was how I had to spend each day. The adjacent meat market is covered with bloody camel and goat heads, deep red raw meat is hanging all over the place. I would expect a morose group of guys, but instead we were getting big smiles and invitations to take more photos!
The younger crew at the markets is markedly different than the older crew. I can literally see the toll this life has taken on the faces of the more senior men. The deep, wrinkled crevices in their skin are the first sign, but the eyes are the real window. Some of the older men are quieter than their younger counterparts; they've been doing this so long they probably can't be "on" anymore. The young guys are out there hustling, smiling, even flirting to a degree, to get us to try some of their fish! The older sellers just sit back and look as if, mentally, they are anywhere but at that market. I spoke to two dozen or so of the employees and some agreed to allow me to take their photo. I love the faces in these photos because they each tell their own story. I can't even begin to imagine what these eyes have witnessed in their lifetime.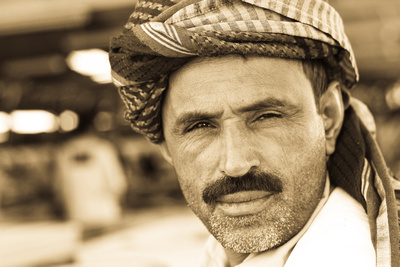 This man runs the stall on the far corner of the fish market, right by the cars. He was extremely kind, and completely willing to pose for me! I told him I would do my very best to make him famous :) He explained each different kind of fish on the counter, even though he knew I wasn't buying. Many of the guys wanted me to come back the next day with a photo, but I had to say no, or inshallah... for him, I think I will try to get back there with a print.
I really loved talking to this man. He was so nervous to have his photo taken! I have a few outtakes of him, because he was flicking his eyes towards me and away, and repeat! In the end, I liked the one of him best when he wasn't looking. He's got a bit of bemused look on his face, as my friend Kate pointed out. I think he was definitely a bit tickled that I had an interest in him. His English was not very good, and my Urdu is non existent, so our conversation was very basic. When I look at his face, I wonder, how many children does he have? How many grandchildren? Do they understand the sacrifices he has made to support them? And on and on... this man has probably found himself in circumstances that I couldn't even begin to consider.
As his dress implies, the man in front is not a stall worker, but he's not top dog either. With the language barrier, I roughly worked out that he's middle management (my words, not his). The man behind him is his employee: a fish cutter, cleaner, seller.
And lastly, my favorite photo from the day. I did not talk to this man, and I wasn't all that close to him. But his hands lept across the yard at me. His oversized coat, a donation perhaps, and those hands.... I wish could sit with him for hours and soak in his stories. He was looking and waiting for someone, or something, to arrive just as I was leaving the souk.
There are so many issues I have in a day that pale in comparison to tribulations of the labor force in Dubai and Abu Dhabi... last week my *electric* toothbrush broke... many of these men have few teeth left in their mouth. My Sling Catcher died, so I can't watch Directv from the USA... these guys all hang out together after a long work day and play a game of pick up cricket or, on Friday, have a wrestling match, together! They don't worry about tv channels being slung across the earth! In fact, just about every anxiety, concern, strain, or struggle I encounter on any given day, is a pinprick relative to what they endure. The regular stall workers earn approximately one thousand dirhams a month. That's $272.00 a month, $3264 anual salary. In 2010, the poverty threshold in the USA was $11,344*: nearly 350% greater the annual salary of the fish sellers. What makes the disparity more glaring, is that the vast wealth in UAE is also unimaginable. Living here is like traveling in a time machine.... one day spent visting with men who exist on the very basics of life, the next day checking out the newest, futuristic hotel that has just opened. The common thread, however, are the men above and others just like them. They never enjoy the luxury of the lavish hotel rooms, but those rooms would not exist without them. They never ingest the seven course feast served at Ossiano in Atlantis, but the fish on the plate has probably passed through their hands.
I have a very new and improved outlook on the people who are really the backbone of this country, and photography led me to that revelation. I am grateful that they allowed me to record and share their faces, and small glimpses into their lives, with others. Maybe this post has nothing directly to do with the purpose of my blog: to follow my ups and downs as I try to make it as a professional photographer. But, it has everything to do with me realizing I have the ability to see through my lens, what I never bothered to see with my eyes. At the end of the day, that has to make me better at my craft.
To read my previous postings, please click http://goo.gl/2BZ0O or to browse my photography, please click http://goo.gl/jLu5P. Thanks for visiting!!
~E xx
*Poverty threshold information: http://tinyurl.com/6opjr6l